SUSHI-REGULAR


SUSHI -DELUXE


DIM-SUM


MANJU


DONUT


Meet The
Clocks:
Upcoming
Craft Shows
Other Store

---

---
The Official
SUSHI CLOCK HOMEPAGE
Battery Last Replaced: January 24, 2018

---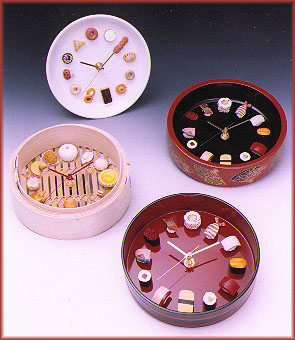 Welcome to the Sushi Clock homepage.
In 1993, I, Noriko Kuwabara, started making sushi clocks. I thought I could just buy small sushi pieces and glue on a sushi tray, but there was no such luck. So, I ended up making every piece by hand. Then the idea for a Dim-Sum clock came to me, and a friend of mine gave me the idea to create a Manju clock. Then, I created a Donut clock.
People frequently ask me how long it takes to make a clock, but I don't make one at a time. It usually takes me three weeks to make 20 clocks. I use polymer clay for basic shapes, paint with acrylic and put varnish on at the end. It is very time consuming, but I still enjoy making these pieces.
The clock movements were made by the famous timepiece maker Seiko and run on a single AA battery--very accurate. Each clock includes an alkaline battery.
To learn more about each clock, please click on the small images at the left. If you would like to order a clock, please click on the "how to order" button at the left.
If you have any questions about the clocks I make, please e-mail me.